Meet the Team: Adam Ostrowski
We are delighted to welcome Adam to the Cellexus team today. Adam is a Microbiologist who joins us in the role of Technical Application Specialist. This newly created role will focus primarily on providing technical expertise to existing CellMaker users, as well as new customers, providing advice and guidance on optimising processes to ensure they are using the CellMaker in the most effective way. Adam brings more scientific knowledge to the team, and will also assist with gathering data from the CellMaker for the creation of case studies and application notes.
Before joining Cellexus, Adam studied a PhD in Molecular Microbiology at the University of Dundee and has worked in the field of Microbiology for over 12 years. Originally from Poland, Adam chose to study his PhD in Dundee after being impressed by the research being conducted in their School of Life Sciences. His PhD focused on characterising the protein BslA from B. subtilis, as its function was unknown. This work was published in high ranking journals and contributed to patenting of the use of BslA as a novel emulsification agent. Upon completion of his PhD, Adam took up the role of Post-Doctoral Research Assistant at the University of Dundee where his work resulted in several exciting discoveries.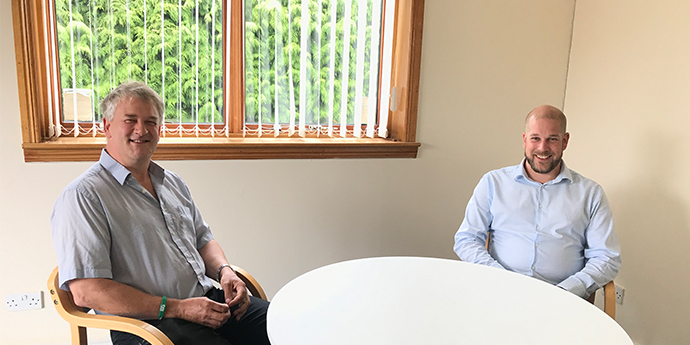 Adam then moved from academia to his dream job as a Research Scientist working with a bacteriophage-based product. This role allowed him to make use of his education and experience within an industry he had a keen interest in. In this role, he was responsible for identifying the phages that stop foods spoiling, in order to make the food last longer. During this time, he met with Cellexus for a demonstration of our CellMaker system. He liked the technology, was impressed with its GMP compliance, and was convinced by the results they achieved during the demonstration, and being a local company, he kept in touch with us.
Adam then moved to an early start-up as Head Microbiologist where he established the laboratory and lab work, completed grant applications and built out the team with Technicians.
With a wealth of experience across the biotechnology field, Adam is ready to re-explore his love of phages. He is particularly keen to work with the commercial side of Cellexus, bringing his expertise to the Marketing and Business Development teams. He is also excited to represent Cellexus at conferences where he can talk to researchers about their work and help them improve their bioprocesses.
To discuss your bioprocesses with Adam, contact him today.